Nearly everyone knows the story of cyclist Lance Armstrong—multiple times Tour de France champion, cancer survivor, founder of the Livestrong Foundation.  Doper & cheater & liar & all-around-bully.
But there are other champions we really should know.  I'm fortunate to know professional cyclist Brad Huff.  This week, riding for the Rally Cycling professional cycling racing team, Brad won the USA Cycling National Criterium* Championships in Greenville, South Carolina.  Check out this story with all the details, including a gutsy sprint to the finish line out of a hard inside turn.  Velo News Article.  Brad also won this event in 2006, and took second place in 2011 and 2012.  And here's a list of some of his other racing results—just the ones recorded by USA Cycling—and it's a really long list of many great finishes.  Huff Racing Results.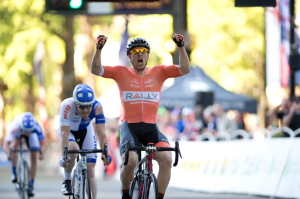 Always classy and humble, rather than boasting about himself and his achievements, in post-race comments Brad dedicated his win to Tom Billinis, a friend and resident of his hometown, father of three and patron of the cycling community, who had just passed away unexpectedly of a heart attack.  You see, that day Brad was racing with a heavy heart, but he still performed.
No one can claim it was always easy for Brad.  Here's a video of a horrific crash several years ago in the Tour of Missouri.  Huff Crash Video.
Here's the important thing—Brad is well-known through the cycling world as a "clean" rider.  He doesn't use performance enhancing drugs, he doesn't cheat.  He trains relentlessly hard, is a constant champion for his sport, and mentors many other young riders and peers.  Brad grew up in Fair Grove (near Springfield), Missouri.  He's now 37 years old, and by most measures probably nearing the end of his competition career.  Yet, there he is, putting in the training time on the road, competing at the highest levels around the world, and taking a championship the right way, fair and square.
And for me, there's much more.  Several years ago my son, as a new freshman at Missouri State University, just happened upon Brad when he was out riding around Springfield one afternoon.  That chance encounter was the start of a long-term friendship and mentoring relationship.  When my son might have preferred to spend his time out on the road on his bike, Brad wisely coached him that riding can happen for years ahead, but now is the time to get your degree.  That clear, principled advice has paid dividends over and over and will continue to do so for years to come.  A father could not possibly be more appreciative!
Any champion must be fueled by an intense motivation to be better than everyone else, and to do everything possible to develop a winning edge.  Yet, that does not mean a true champion needs to cheat or destroy others to be a champion.
All of us who claim to be professionals, and strive to reach the very top of our profession, are well advised to consider the great example of a real champion-professional, Brad Huff.  Good work, Huffy!
(*Note:  A criterium, or crit, is a bike race consisting of multiple laps around a closed circuit, with the length of each circuit ranging from one or two kilometers to as long as two or three miles.  Race length can be determined by a number of laps or total time, in which case the number of remaining laps is calculated as the race progresses (e.g. five remaining laps after the one hour mark).  The event's duration is typically in the range of one hour, compared to the much longer duration road races, and consequently the average speed and intensity are much higher.  Success in road criteriums requires a mix of good technical skills, including cornering and climbing, riding within a large group of other riders in a tight formation, and exceptional sprinting ability to attack other riders and repeatedly accelerate hard from the corners.)
– Philip Krause, Founding Member